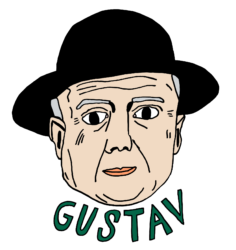 Jazz Nights at Gustav presented by Felix Peikli
Our intimate club is inspired by New York's jazz scene. The club has its own entrance and is located in the basement of Amerikalinjen. With a stage, state-of-the-art lighting and sound systems, a kitchen and dining facilities, Gustav can accommodate many types of events and arrangements.
The club is named after Gustav Henriksen, the founder of Amerikalinjen. In the years prior to the opening of the Norwegian American Line he was met with huge resistance, but Gustav knew that people wanted to explore, and in 1913 the first ship left the dock.  His work was the start of a 60-year long adventure – for all the thousands of people who emigrated, for Amerikalinjen and for Norway. Let yourself be inspired! The club reflects Gustav's playful, New York and jazzy side.
Come join us for Weekend Jazz sessions and experience smoky tunes and an electric atmosphere: you will always feel welcome!
Program and tickets for Jazz Nights Spring Season below
▼
June 10 | Felix Peikli & Friends ft. Frikk Heide-Steen
Season Finale: Jazz at Pride Join us for the Season Finale at Club Gustav as we celebrate Jazz at Pride! From Billy Strayhorn to Cole Porter and beyond, jazz has always been about diversity and inclusivity. It's the heartbeat that connects us all, regardless of our backgrounds, genders, sexualities, or beliefs. The passion for music that fuels jazz continues to break barriers and champion individuality, just like our incredible lineup for this finale. Felix Peikli & Friends are thrilled to welcome back the extraordinary vocalist Frikk Heide-Steen to honor the heroes of jazz who paved the way for acceptance and unity. Don't miss this unforgettable night of music and celebration!
Experience our other food & drink-services